What's Up Wednesday is a weekly meme geared toward readers and writers, so we can check in with each other. To join, just check out
Jaime Morrow
or
Erin Funk
's blogs for the link widget and sign up!
WHAT I'M READING
THIS GORGEOUS BOOK, FINALLY. (
A Darker Shade of Magic
by V.E. Schwab)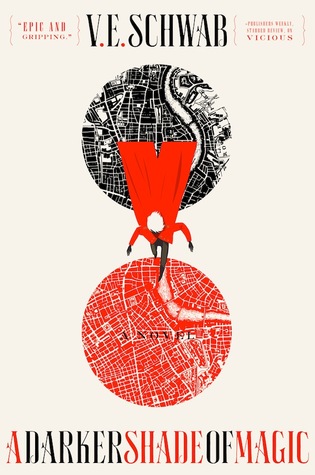 And though this is a hold-over goal from last month, I finally started my re-read of
Ron Chernow's Alexander Hamilton biography
. YEP, STILL LOVE IT.
WHAT I'M WRITING
Zero writing. :(
Writing Goal
: Write something!!!
WHAT WORKS FOR ME
Music. I generally prefer writing in silence, but every once in a while I'll indulge in soundtracks. Music with words is usually too distracting for me, but sometimes certain songs really capture the mood or relationship between characters!
WHAT ELSE I'VE BEEN UP TO
Most recent things first.
1)
We finally gave stinky Loki a bath. He hated it but was rewarded with a dog-donut afterwards. He also got his early birthday present from me - a new dog bed! I think he loves it.
2)
Though it's been out a month, my friends and I hadn't managed to get together to see the Backstreet Boys movie. Yes, they have a documentary-movie. So we gathered this past Saturday to eat pizza and cookies and to relive our fangirl teen years. IT WAS SO GREAT.
Then we watched some BSB music videos (sang along, of course - we will never forget these lyrics) and played with J's new puppy. Isn't she the cutest little lady??
3)
Before I left, I snagged this cool Blackmilk Star Wars shooter!
Now, onto the fun stuff: in my 2 week absence from WUW, I've been TRAVELING and recuperating! As I mentioned in my last post, I was headed to New York City at the end of February - possibly the worst time ever to go because IT WAS FREEZING. And I don't even mean wimpy-Californian-me definition of freezing. It was actually VERY COLD. In the cab we took into the city, the Sis and I overheard on the radio that this was "one of the coldest Februaries in New York City on record." *insert crying*
Anyway, I have long promised dear twitter friend Sarah that I'd visit her in NYC, and she has long been trying to lure me there. She finally did it this time when she discovered and informed me of an Off Broadway hip-hop musical about my favoritest of Founding Fathers - Alexander Hamilton! So this trip I got to do 2 things, finally visit and stay with Sarah (the loveliest of hostesses)
and
do super nerdy US History squee-ing things involving my No. 1 history crush.
I will do a more comprehensive NYC post for Monday since I could write
forever
about all the cool stuff I saw and about Hamilton - both the man and the musical. So please look out for that! For now, here is a summary!
Of course, the Sis and I hit up a few museums on our trip, including one of our absolute favorites, The Metropolitan Museum of Art. The main reason for this visit though was so that the Sis could finally see the famous Leutze painting of
Washington Crossing the Delaware
. Bad timing has kept the Sister from seeing it for years, but she saw it this time in all of its giant glory.
It was also the return of the Sister's imitations in her finest form. Check them out at her Instagram
imitationcat
.
2 imitations done 4 years apart: left side is from 2011, right side is from this trip.
Other museums/sites were covered, but for the sake of brevity, I will include them in the actual write-up. The only other big museum I must mention is the Museum of Modern Art because we found out right before we went that Van Gogh's
The Starry Night
(as in
the
Starry Night painting) is there! My sister wore her newly acquired matching leggings for the occasion, and for those of you wondering about my fabulous blue coat? Here it is!
Other fun things - shopping! Interactive theater retelling of Macbeth called
Sleep No More
! Custom lipsticks at Bite Beauty Lip Lab! Meeting up at the glorious Strand Bookstore with new-ish Twitter friend Kristin aka
Superspacechick
- Booktuber and Geek Girl Blogger extraordinaire!
And the rest of the trip was basically Revolutionary US History nerding out (because that ish is my jam) and rekindling my long-time crush on Alexander Hamilton - because let's face it, he's the finest Founding Father gracing a bill. ;) His adopted home is New York, so there's a lot of his stuff to see in NYC. More than I even knew, which meant so many delightful discoveries!
Fair Warning
: From this point forward, please be prepared for much Hamilton squee-ing.
My goal for this trip (other than seeing the musical, which is super sold out and for which I'd bought tickets for back in December) was to finally see Hamilton's house, The Grange. The Sis and I are both cursed with bad timing because both times I'd been in NYC in recent years, the Grange had been closed for relocation & renovation. The last time I was in NYC, it re-opened literally the day after I left. So, seeing this historic home was Number 1 on my list and IT HAPPENED!
Me with Sarah outside the Grange. It's even prettier inside!
After the visit to Hamilton Grange, Sarah dropped the Sis and I off at the subway so we could head downtown to see
HAMILTON by Lin-Manuel Miranda
(of
In the Heights
fame) at the Public Theater. She had already seen it earlier in the month and told me "it is the best musical I have ever seen, and I've seen a lot of musicals." Needless to say, I was giddy and the Sister was skeptical but looking forward to it.
Guys, it is like my
favorite
musical that I've seen (and I've seen a few) and that's despite my built-in love for the subject matter. The Sis was hooked two lines into the opening number. By intermission, I was only capable of tweeting in ALL CAPS.
If you think a multi-racial cast that uses hip-hop and R&B to tell a period piece about Alexander Hamilton and the founding of the US can't possibly make mesh, you will have your mind blown by this musical - because it not only works, it
owns
all of it. It's fun, smart, catchy, moving, and historically aware! It is, after all, based on the hulking 700-some page biography I listed at the top of this post, and Ron Chernow was the resident historian on the project.
In summary, Lin-Manuel Miranda made my history nerd life by writing this incredible musical. He's brilliant. He didn't perform at our showing but was around afterwards chatting with people, and I basically word-vomited my feels at him in the most unseemly fashion. We also chatted a bit with Javier Muñoz, who played Hamilton in LMM's stead, and he was super friendly and sweet. Not to mention, he was fantastic in the role (seriously, so good),
and
he got a kick out of my Swagilton tee.
All of the Hamiltons! (And that is a life-sized Aaron Bur statue in the back.)
Good times! Yes, this show was worth braving the freezing weather and flying across the country!
And THAT is what I've been up to!
What's up with you?
P.S.
See you next week for the NYC trip recap. More pictures! More food! More nerdy tidbits! :)