What's Up Wednesday is a weekly meme geared toward readers and writers, so we can check in with each other. To join, just check out
Jaime Morrow
or
Erin Funk
's blogs for the link widget and sign up!
WHAT I'M READING
Long Lankin! It's a long book, and also Comic Con ate all my time. I'm getting back to reading this week.
WHAT I'M WRITING
The verse story. I'm not even going to link you to my Ready.Set.Write! update for this week because it's sad. I have not written anything new or even thought about it. Again, blame SDCC!
WHAT INSPIRES ME RIGHT NOW
The general kindness and friendliness of the nerd herd. I can't even begin to tell you how many nice Fannibals I met this past weekend or how many random not-my-fandom line friends I made while dealing with the special kind of purgatory that is waiting in Comic Con lines. Thanks for keeping me sane, geeks!
WHAT ELSE I'VE BEEN UP TO
I missed last week's post, but right before SDCC we got manicures!
| | |
| --- | --- |
| The Sister's (Cat) cat manicure. | Flower manicure for me. |
But what you want to know about really is SAN DIEGO COMIC CON!!! Or as my friend likes to say Comic KHAAAAAAAN~!
This last is actually quite accurate because this year's SDCC presented frustrations my first time at SDCC didn't. I predicted last year that nothing would top that 1st year, and I was right! Not that this year wasn't fun, and not that incredibly cool things didn't happen, but it was also a lot more frustrating & generally kind of a lull year?
And I didn't go in with the mindset that I wanted it to top/be like last year because that would have been an exercise in disappointment, but 1st year was definitely better. (I mean, c'mon. Tom Hiddleston (2x). Hugh Dancy. Lee Pace. The entire cast of X-Men Days of Future Past!)
Again, not to make it sound like this year wasn't amazing because it was! SDCC is its own kind of magic. Anyway, I will post separate SDCC recap posts because I know some of you are interested/requested pics & I have way too many of them to post here.
But to give you a taste, here's some cool stuff that happened + pics!
We did the exclusives thing AND the booth signing thing (namely, I met the cast of Hannibal!)!
All black end-credit jaegers. Yaaaaaassss!
We did the (casual) cosplay thing.
Aquaman was too tall to fit in this shot.
We spotted people on the Exhibit Hall floor!
| | |
| --- | --- |
| Scott Thompson post-Hannibal signing. | Peter S. Beagle, author of my favorite book!!! |
We did the party thing. Hey, Nerd HQ!
Free photo booth shenanigans at Nerd HQ dance party.
We did NOT do the Hall H thing. :( The line was way too crazy (more on that in future posts). But actually, I don't regret not being in there on Saturday.
We did do the Hall H thing Saturday night for WB's DC Entertainment night & saw the pilots for CW's THE FLASH, FOX's GOTHAM, and NBC's CONSTANTINE. Thoughts on that in future recaps (all are good but Gotham is fantastic).
We obviously did the photo-booth/ gif-booth thing.
Zip-lining through Gotham, no big deal.
We made it to the Hannibal PANNIBAL!
Appropriate attire: stag, dinner setting,
plaid, flower crown (not pictured).
OCULUS RIFT everything. 360 degree virtual reality thing that allows me to pilot a jaeger & ascend the Night Watch's Wall? Yes, please!
Meeting online friends! I finally met author and blogger friend LYDIA KANG!! She is the sweetest, and we chatted about SDCC craziness and soupy dumplings (because we love food).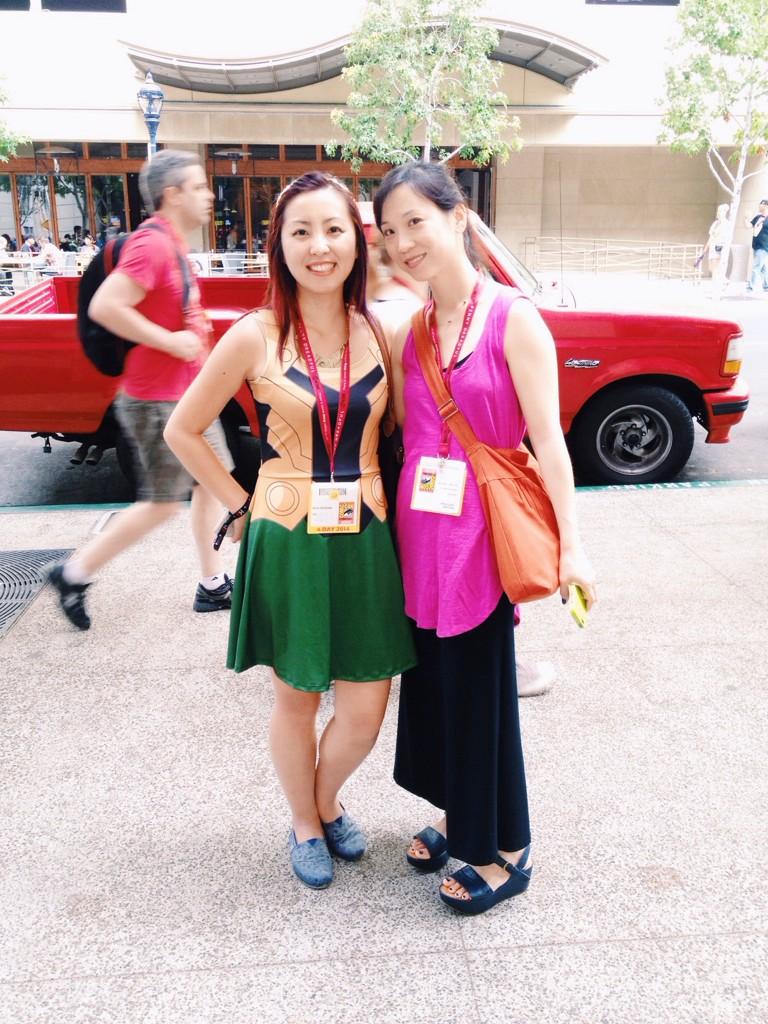 GOTHAM everything. (They had the best stuff.)
Oh and most importantly, we actually ate at least 1 REAL MEAL a day (dinner)!
I will begin my SDCC full recap
this Friday
next week! (Too exhausted. Pictures still on camera...)
What's up with you?