Going to jump right in because there's a lot to recap and as we speak, I will probably be on my way to Las Vegas with some of my favorite ladies. I know, I'm having a busy few weeks. I have no idea how I'm still on my feet, honestly.
Picking up right where I left off from SDCC Recap 1, here's Day 2 (Part 1 because there are too many pictures)!
FRIDAY/ Day 2 (Part 1)
We didn't get
that
early a start, but Friday was basically our day to do ALL THE (Other) THINGS! We didn't try to get into any panels, though there were plenty of panels we would have
liked
to see -
Game of Thrones
,
The Walking Dead
,
Agents of SHIELD
, etc. - but we knew we were going to spend all day Saturday in Hall H. So if we wanted to see things and explore the Exhibit Hall, then we would have to do it on Friday.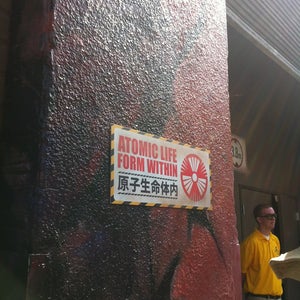 Before coming to San Diego, we'd reserved tickets to see Legendary's
Godzilla Experience
. That was the first thing we did Friday, and it was
freaking awesome
. The Experience was off-site. The first part was essentially a walk-through Godzilla's long pop culture career on a set that looked like a Tokyo street (complete with Godzilla themed ramen shop and Japanese speaking patron). Then alarms went off and we were ushered into a room that looked like a scientific command room (where we were not allowed to take pictures). The machines were tracking something large that was headed towards San Diego.
After that, armed guards in riot gear herded us into an elevator (that rumbled and shook like a real elevator) that was supposed to take us to the roof to be evacuated. Of course, it stopped before the roof and we had to exit onto a floor of the office building, complete with Hello Kitty decorated and messy cubicles. We faced a set of windows that looked out into a rainy city, and then we heard the sound of heavy footsteps (like Jurassic Park's T-REX moment).
Godzilla himself stomped into view, and we got an up-close glimpse at the OG kaiju (he gave us a roar) before we were "taken to safety" and given a really cool poster as a keepsake.
We headed to the convention center after that and spent a big chunk of the day there. There were cool displays and really elaborate booths. For example, the AMC booth was done up like The Walking Dead's prison. There was swag to be had, celebs to spot from afar, things to buy, and LOTS of photo opportunities and photo booths. Needless to say, we pretty much took a pic at every one we saw.
The Lego Booth: life-sized figures made of Lego & lots of little kids.
The Sideshow Collectibles booth.
The DC booth, celebrating Superman's 75th anniversary. All the various cinematic suits were on display from Henry Cavill's various outfits to Tom Welling's "the blur" outfit to the classic suits worn by Christopher Reeve.
The Marvel booth.
They changed this display each day. Mjölnir was there on Thursday.
The Hasbro booth / photo opp. We're action figures!
The BBC booth was part Doctor Who display with outfits from the series, especially since this year is the 50th Anniversary of the show.
We saw this Sherlock while waiting in line for the BBC store, and oh look MARK GATISS (aka Mycroft) doing a signing at the booth!
The Adventure Time photo booth. We were inside the Ice King's dungeon.
The Walking Dead/ AMC booth done up like the Prison from Season 3. The cast was in there when we walked by the first time. We kind of saw the Governor! Otherwise, they normally have convict-zombies terrorizing people as they go by.
The STARZ pirate ship booth for their new show
Black Sails
& the WETA booth.
And I will stop here for now because this post is getting long and I need to be getting some sleep while I can. Catch you again next Friday!
For more SDCC goodness, here are my previous related posts:
1)
What's Up Wednesday (7) / RSW (6)
2)
SDCC Recap No. 1
3)
What's Up Wednesday (8) / Our Comic Con Fashion