It's been a stretch since my last book review, but I am SO EXCITED to share my thoughts on Sarvenaz Tash's newest book because it's about something near and dear to my heart - geeks!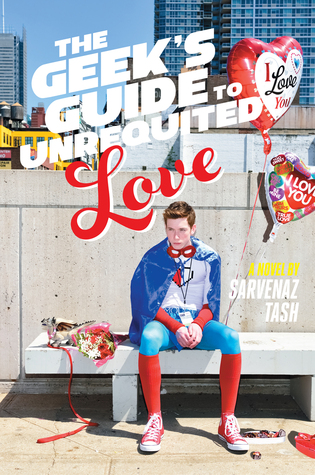 THE GEEK'S GUIDE TO UNREQUITED LOVE
is OUT TODAY, and if you get it this week, you can get a geeky swag pack, including a signed book plate!
Details here
.
Anyway, on to the review!
Disclaimer:
Won an ARC through a Twitter giveaway held by the author. Twitter friends with the author. I am not part of the blog tour and am reviewing this book of my own accord.
PROS:
Quick read, good representation of geek life, strong narrative voice, funny
CONS:
non-POV characters are a little lightly sketched, pop culture references could be overwhelming to the non-initiated
Intellectual Rating:
7 out of 10
Emotional Grade:
A
Goodreads blurb:
John Hughes meets Comic Con in this hilarious, unabashedly romantic, coming-of-age novel about a teenager who is trying to get his best friend to fall in love with him from the author of Three Day Summer.
Peter Parker and Gwen Stacy...
Archie and Veronica...
Althena and Noth...
...Graham and Roxy?
Graham met his best friend, Roxana, when he moved into her neighborhood eight years ago, and she asked him which Hogwarts house he'd be sorted into. Graham has been in love with her ever since.
But now they're sixteen, still neighbors, still best friends. And Graham and Roxy share more than ever—moving on from their Harry Potter obsession to a serious love of comic books.
When Graham learns that the creator of their favorite comic, The Chronicles of Althena, is making a rare appearance at this year's New York Comic Con, he knows he must score tickets. And the event inspires Graham to come up with the perfect plan to tell Roxy how he really feels about her. He's got three days to woo his best friend at the coolest, kookiest con full of superheroes and supervillains. But no one at a comic book convention is who they appear to be...even Roxy. And Graham is starting to realize fictional love stories are way less complicated than real-life ones.
REVIEW
Getting right to it, I loved this book. It was everything I hoped it would be - a love letter to being a geek and a sweet teen romance about grand gestures and friendship. The plot revolves around Graham and his epic plan to confess his love to his best friend (and comics co-creator) Roxy at NYCC. There is just enough drama to keep things interesting - because let's face it, nothing ever totally goes right when it comes to Comic Con - and more geeky references than you can shake a stick at.
One of my biggest concerns going into this book, actually, was how geek life might be portrayed. We've all read or seen portrayals of geeks that might've felt forced or ultimately seemed to denigrate the culture, and while I didn't think Tash would have that problem (I know her to be a big geek herself), there was still that slight fear. I was quickly reassured that I was in good hands. I recognized so much of what I've lived and what I've witnessed in terms of being a geek in both Graham and Roxy. They both felt like
my people
, in love with their fandoms and unabashedly proud of it.
Tash also wonderfully captures the heady but also frustrating experience of geek convention-going. NYCC is an unexplored land for me, but I've been to San Diego Comic Con (this year will be my 4th!), and let me tell you, some of the nerd rage moments in this book are so, so real (two words: line drama). Of course, Tash shows us some of the random but truly magical moments and connections that can happen at big conventions too, and she really gets what it's like to be immersed in a fandom, which shows in the characters.
The book also briefly touches on a number of deeper issues regarding geek/pop culture ("fake" geek attitudes, how women are treated as fans and creators, etc.), which I didn't really expect from such a light book, especially since it was focused on Graham's attempts to confess his feelings. So I appreciated that these topics weren't ignored and were acknowledged in a way that felt natural and didn't veer us away from the main story. I also appreciate that Graham is realistic enough to sometimes have problematic reactions and thoughts about certain people and situations, but that the character reflects on these feelings and grows from the self-assessment.
I do wish I got to know Roxy better, but the time span covered by the book is so short (3 days!) and we spend all of it deeply in Graham's POV that I understand why it would be hard to give us an accurate or even deeper portrait of Roxy. I also wanted a little more from the minor cast, but again, there are a lot of limitations inherent in the premise of this book. What I did get was good though. You get a firm sense of Graham and Roxy's friends, so much so that I want to know more about them.
Also, while I loved all the nerd references sprinkled throughout the book (and it indeed is what makes Graham's character feel so real), I imagine it can be a little overwhelming for readers who aren't super into geek or pop culture. That doesn't mean non-geek readers won't enjoy the book - I truly think they will - but Graham and his friends speak in pop culture references, which would obviously be less enjoyable if you don't get the reference. That said, they're very accessible references that I imagine most readers will know and a good chunk of their references is about the in-book-invented fandom, so all the info for that is provided in text. But the sheer volume of the other references did make me think of this as something to point out so readers can be prepared.
All in all, this book was delightful! It was a quick and fun read: proudly geeky, heartfelt, funny (can we talk about the chapter headings? So good.), and satisfying. It is the perfect pre-Comic Con (and summer) read, and I wouldn't hesitate to recommend it to all of you - my geek friends. Tash did us a solid, and I'm so excited for you to read this book!
...
Again, the book is out NOW! If you want a swag pack of nerdy stickers & a signed book plate, be sure to get yours before JUNE 19, and follow the instructions here:
Geek's Guide Swag Pack
.
If you read this book or have read it, I'd love to hear your thoughts in the comments!
Q4U: What's the best "geek life" book you've read?